Cracking Chemistry
Introduction to Cracking Chemistry
Cracking Chemistry is a text book I wrote to address the ever increasing need for a suitable textbook to go along with my teachings of Chemistry as a subject at School as well as to fill the void of an easily understandable,well written and enjoyable text book on the subject.
Even though the book is written at the level of Key Stage 3, that means students aged between 11 – 14 years, my 25 years of teaching experience has thought me that students struggling at higher levels, such as GCSEs (aged between 14 – 16 years) and A-Level (aged between 16 – 18 years), are unable to grasp the materials at their level without understanding of lower level material. I often have to refer GCSE and A – Level students to lower level material, especially Key Stage 3.
The concept is simple, how can one understandd the advanced materials of a subject without first understanding the Basics of the subject.
Excerpt
Excerpt of Book:
Section 1: Chemistry – A Definition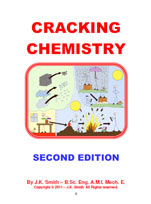 Before we go any further, let's make sure that we at least have a basic idea of what the word Chemistry actually means and what Chemistry actually is.
"The word Chemistry comes from the Greek word khemia, which means art of changing the form of metals."
Chemistry is a subject which, basically, provides you with useful information about the different substances or types of materials that make up the physical world around us and how they behave or react with each other. As we use lots of different substances in our daily lives it is clearly going to be of value to know something about them – so that we can use them more effectively.
Contents
Table of Content:
Introduction

Section 1 – Chemistry – A Definition
Section 2 – How to Use the Glossary
Section 3 – How to Do the Review Exercises
Section 4 – Who this Book is for
Section 5 – Definitions of Some Key Words
Section 6 – Your Purpose for Studying Chemistry

Cracking Chemistry Part 1 – Properties of Matter

Chapter 1 – The Three States of Matter
Chapter 2 – Matter – Its Other Properties
Chapter 3 – Physical Changes
Chapter 4 – Methods of Separation
Chapter 5 – Metals and Non-Metals
Review Exercise for Part 1

Cracking Chemistry Part 2 – Elements, Compounds & Mixtures

Chapter 1 – Introduction (Some Key Definitions)
Chapter 2 – Atoms, Elements and the Periodic Table
Chapter 3 – Compounds and Mixtures
Chapter 4 – Isotopes
Review Exercise for Part 2

Cracking Chemistry Part 3 – Chemical Reactions

Chapter 1 – Physical and Chemical Changes
Chapter 2 – Balancing Chemical Equations
Chapter 3 – Eight Types of Chemical Reactions
Chapter 4 – Rates of Reaction
Chapter 5 – Useful and Nuisance Reactions
Chapter 6 – Geological Changes
Review Exercise for Part 3

Cracking Chemistry Part 4 – Acids & Bases

Chapter 1 – Definitions and Properties
Chapter 2 – Indicators and the pH Scale
Chapter 3 – Reactions of Metals with Acids, Air & Water
Chapter 4 – The Reactivity Series & Metals Extraction
Chapter 5 – Neutralisation (Making Salts)
Chapter 6 – Useful and Nuisance Acid Reactions
Review Exercise for Part 4

Cracking Chemistry Part 5 – The Periodic Table

Chapter 1 – A Review of What We Already Know
Chapter 2 – A Closer Look at the Periodic Table
Chapter 3 – Radioactivity
Chapter 4 – Atomic Energy
Review Exercise for Part 5
How To Order
You can get your copy by clicking on the SHOP tab on the top of this website where you will also find prices for the hard copy text book as well as for the other two books in the exciting "Understanding the Sciences" Series; Fabulous Physics and Brilliant Biology. Remember, there are also discounts available when buying all 3 e-books and free shipping when buying all 3 text books. Just contact me before placing an order through the contact page.